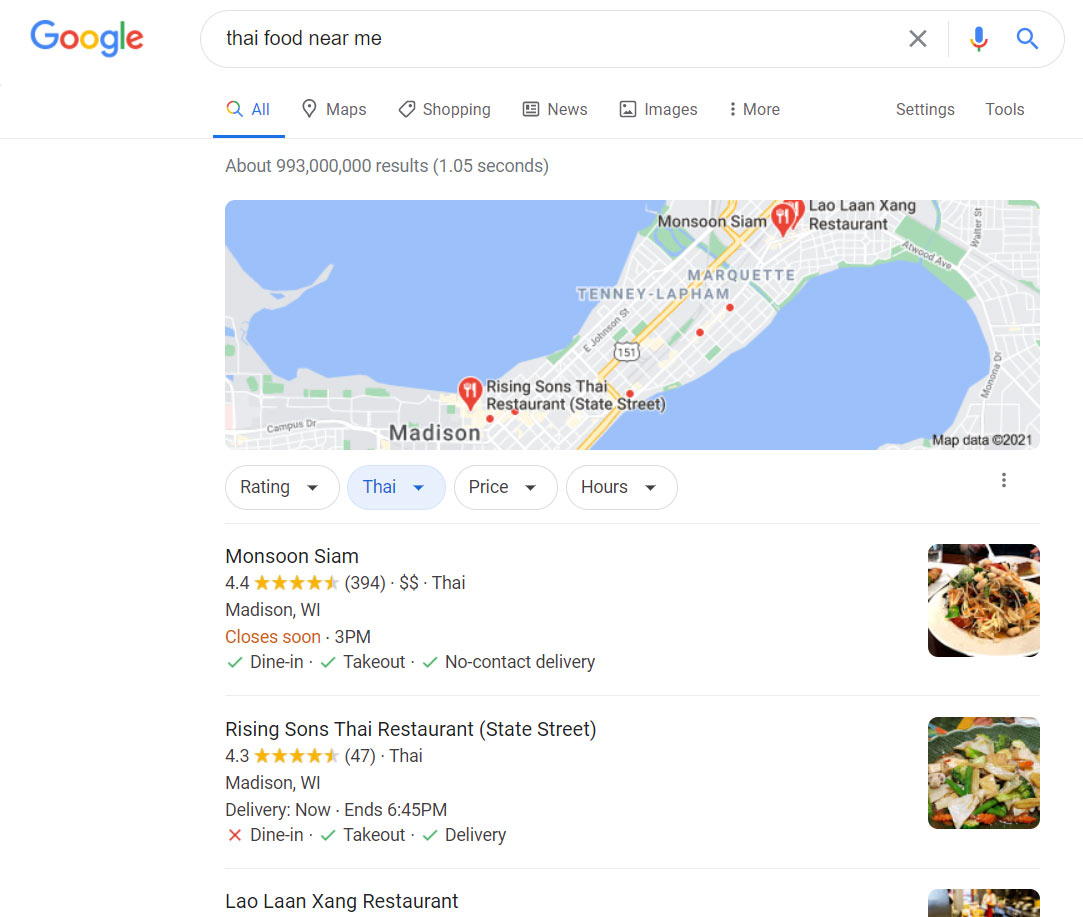 Creating a Google My Business listing is an essential and easy step to boost search engine performance. Creating such an account is called a "citation."
Google My Business helps SEO by:
Creating a listing and "pin on the map" for Google searches with a local or location-based user intent, which can help boost the potential of gaining a coveted Page 1 ranking;
Providing an opportunity to get a backlink to a brand new website;
Provide a place for essential business information such as telephone numbers, open hours, etc.
Provide a place for public Star Rating Reviews, which can help influence a customer's decision to contact you.
This process often falls to the developer in the morning while they are waiting for other crucial information to start building the website. But it could be done by anyone who has time.
Before you create a new account, make sure the client doesn't already have a Google My Business listing. The best way to do this is simply to google the business name and see if the map pin pops up. If the client has a common name like "Peak Performance" you may need to add the city name in there.
What About Non-Location-Based Businesses?
It's obvious if you're making a website for a restaurant that you need that pin on the map! But should you create a Google My Business listing if the client doesn't have a location?
This is a question that is best determined during the Kickoff Meeting by understanding how and where the client does business. If many of the client's customers are local, then yes, they should have a listing. On the other hand, if you're creating a website for a social media influencer, it is a bit silly to have a Google My Business listing.
Assignment: Set up an Agency Account (7 min)
You can create an Agency Account with Google so you can manage your client's listings. We recommend setting one of these up first. Once you register your agency, you can easily structure your team and listings more efficiently from your agency dashboard.
---
How to Create a  Google My Business Listing:
Before you get started, locate the client's logo file. A square shape is best for this profile.
To create an account for your client, go to https://www.google.com/business or log into your Agency account.
Sign in with a Google address.
Click the plus sign and location icon to Add a New Location.
Fill in all the information accurately, including website URL. The  more info you have, the better. Any information you're not clear about, check the Kickoff Meeting document or ask the client. Sometimes it can be tricky to find an industry that is appropriate. Just pick the closest thing.
Once the listing is created, go in and edit to add more details such as the logo and cover image.
Add the client as an Owner under Users. They will need a Google-registered email for this. (Again, we believe in full client autonomy).
If the client doesn't want to show their address because they work from home, that's OK. When you get to the screen that says "Do you want to add a location customers can visit, like a store or office?" just say "No."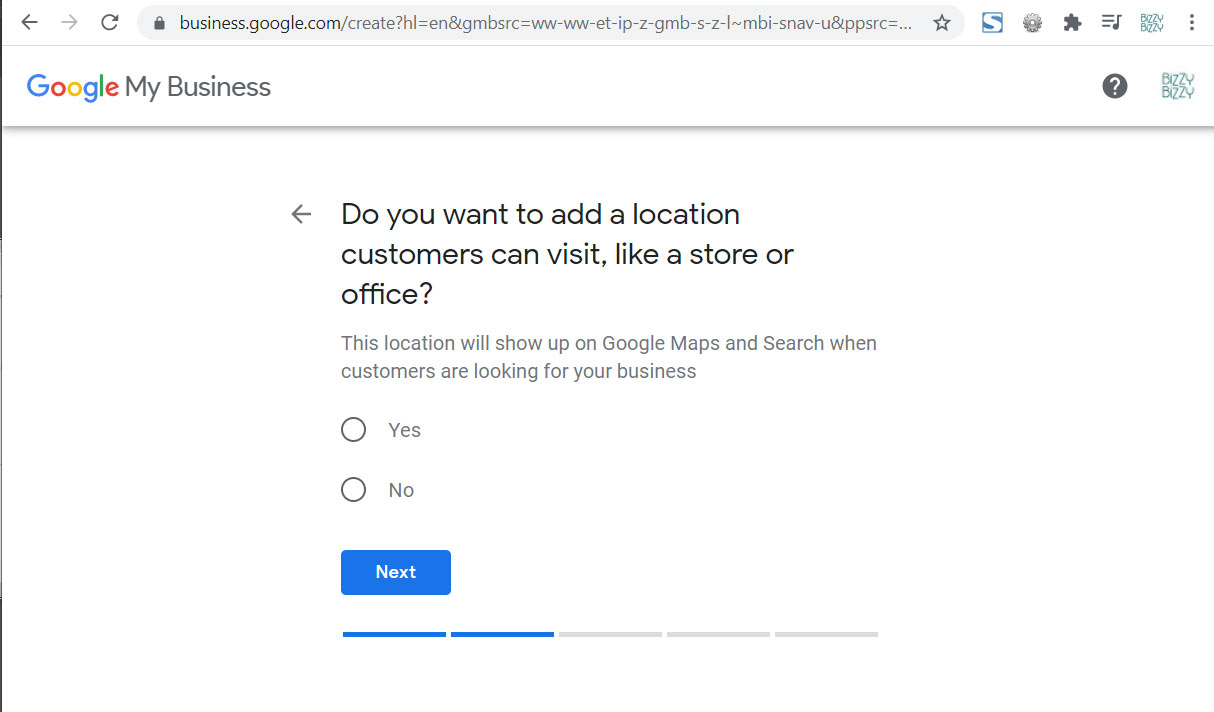 Note you'll still have to get the client's physical address in order to do a verification via postcard. It looks like this: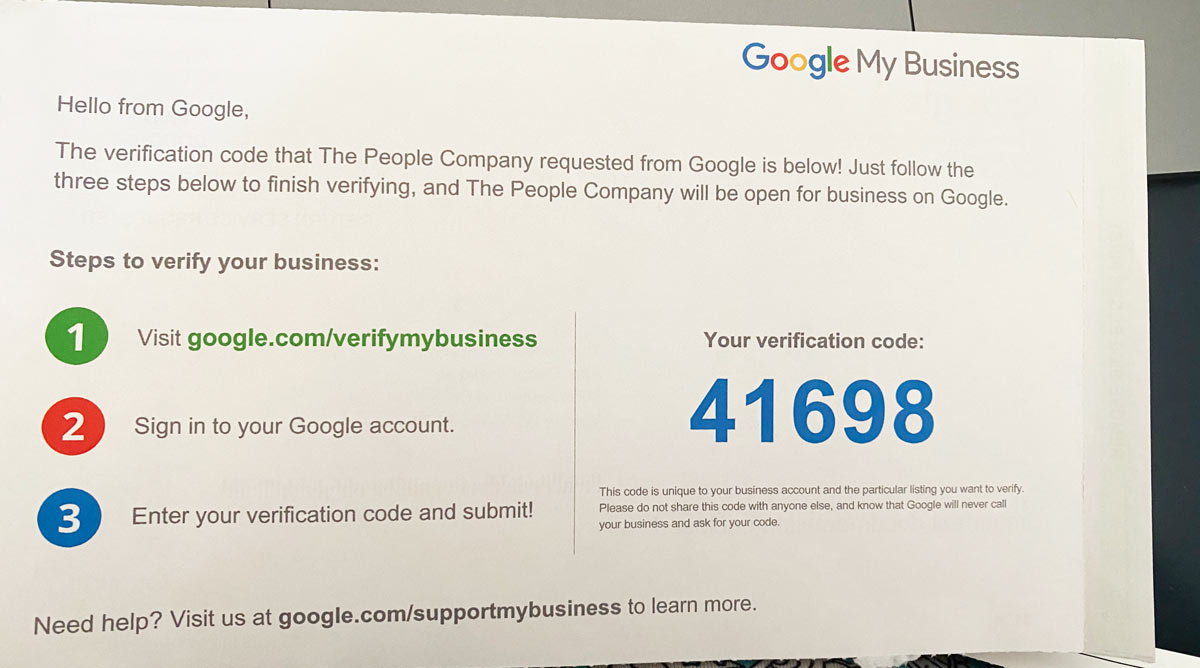 Ensure the client that their address won't show on the listing, and let them know to look for a postcard from Google, which will come in the mail usually within the week. The postcard looks like junk mail so tell them to keep a close eye out!
Once the postcard comes, tell the client to send you the pin on the back. Then go to google.com/verifymybusiness to enter the pin. If the client got access to the account, they can also do this themselves, but we like to make sure it's done!
Once verified, that's all you need to do. If the client would like to continue uploading photos or other details, again, all the better for their search results.
https://1dayworks.com/wp-content/uploads/2020/09/1-day-works-logo-150.png
0
0
1 Day Works
https://1dayworks.com/wp-content/uploads/2020/09/1-day-works-logo-150.png
1 Day Works
2021-03-23 20:23:16
2021-03-23 20:48:28
Google My Business